Be inspired as Janet shares her intuitive approach in creating a fresh and expressive portrait in Expressive Watercolor Portraits with Janet Rogers. Her special love of painting people and deep passion for watercolor is evident as she shares her unique and exciting application of paint – letting the watercolor dance around the paper – having its own "life". Using the white of the paper as an important part of her design, while discovering unexpected colors and shapes, Janet encourages you to watch for the "poetry" as the painting develops.
Materials are explained together with her process of finding "unique" and unexpected color as well as explaining her thoughts and feelings about application of paint. Janet tries to hit the "finished" values and colors right away to capture spontaneity. Her portraits are well-known for their sensitivity and beautiful transparent flesh tones.
75 minute art instruction video.
Learn to capture the essence of flowers through the expressive medium of watercolor in Expressive Watercolor Florals with Janet Rogers. Beginning with a series of "playful" exercises, Janet shares her approach to painting three flower demonstrations including "Roses", "Iris and Daisies" and "Sunflowers". This DVD will be helpful to those whose painting time is limited, those who enjoy interpreting nature, those who wish to experience the joy of spontaneous and loose watercolor painting, and those who wish to see flowers "grow" on paper!
Materials are explained together with her process of finding "unique" and unexpected color. Janet uses the white of the paper as she intuitively designs and moves through the paintings. Her deep passion for watercolor enables her to allow the medium to "connect" with flowers, giving them a life of their own in the painting.
104 minute art instruction video.
In Watercolor Rhythms with Figures, popular artist and workshop instructor Janet Rogers shares her intuitive and spontaneous nature of watercolor painting as she demonstrates six different subjects. Beginning with "warm-ups" in drawing and painting, Rogers focuses on painting quickly with color and shapes to capture gesture and motion –"discovering the rhythms".
As Janet explains her palette and shares her unique paint application, viewers get insight into allowing the medium to be an expressive part of the painting process .In addition to capturing the sense of "life" in these demonstrations, goals include "connecting shapes", "keeping the whites", "discovering new color", "background attitudes" and most of all, "having fun" in painting.
145 minute art instruction video.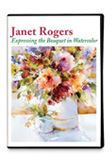 Expressing the Bouquet in Watercolor

In Expressing the Bouquet in Watercolor, Janet Rogers leads us through a painting session that is full of insight into her spontaneous and unique painting style. Fresh flowers in the studio will be the inspiration for the painting. Before beginning, Janet guides the viewer through a few warm-up exercises to connect with the subject, but then be able to "interpret not copy" for the actual painting by watching the paper and responding intuitively.
Janet says... "Painting should be fun, fresh and exciting without the pressure of trying to make a masterpiece. My goal in this demonstration is to share the joy I feel when painting flowers."
104 minute art instruction video.